So, the Summer's over and we're all going back to a brand new spanking, shiny new school year. Last year was mega tough in English; we were teaching the new qualifications alongside the legacy specifications at both GCSE and A level. We were worried about whether the fact that it was the last year of the outgoing GCSE would have an effect on results, as well as wading through the unknown waters of the new GCSE. I say waters, at time it felt much like treacle. On the last day of term, I actually sat briefly in a state of shock, stunned by the fact that I had made it through the year alive. But we did, and we did it well.
So, I've sat over the last few days and contemplated the new school year. I'm your bog standard teacher, albeit an experienced one. I have a full timetable, and yet again due to mentoring demands, will only have 2 hours free a week. But that's ok. I enjoy mentoring and you know what, I'm proud that I teach the teachers of tomorrow and I'm lucky that I am trusted and thought of highly enough to do so. I have 4 GCSE classes, but I like GCSE, I like those kids and the really intense relationships that we build together; it will be ok.
The photo above is of my daughter and her friends. It exudes fun and friendship and support and made me realise that I I didn't get through last year alone, and the more I think of it the more grateful I am for the amazing group of people on Twitter that are there day in and day out, supporting one another, sharing ideas, resources and blogs that keep me enthused, make me look at things a different way and remind me on the most difficult of days, why I love what I do so very, very much. So I wanted to say thanks to a few people, to acknowledge their impact and explain why their presence makes the world a far better place indeed. So in no particular order…..
@fod3 The woman is an absolute powerhouse. Freya works so bloody hard and shares absolutely everything that she does. She is the founder of the indispensable #teamenglish dropbox and is an absolute bastion of the sharing and supportive community that exists on Twitter. I was privileged to be able to introduce her and listen to her speak at Teaching and Learning Leeds this year. The work she has done at her school is just outstanding. She also made me a very happy lady indeed by having flowers delivered to work on my birthday, something that I appreciate more than she will ever know.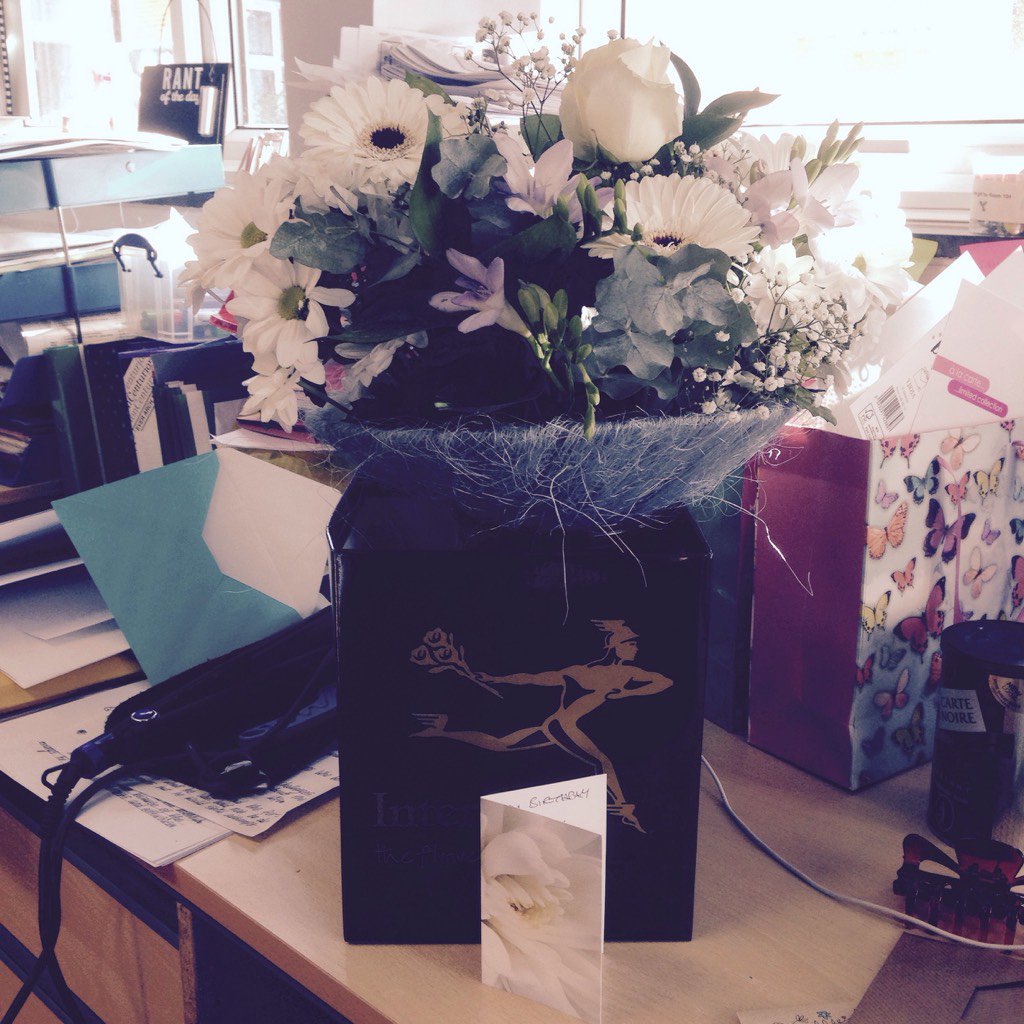 @HeadofEnglish Caroline is a goddess amongst women. She is a consummate professional, constantly sharing her fabulous ideas and supporting and sharing others ideas. Her workshop on word wealth transformed my teaching this year, and I have ran CPD sessions based on her ideas that I then trialled in the classroom. She encourages debate without ever being rude and isn't afraid to question ideas. She always has her students at the heart of everything she does and shares examples of how ideas have worked in practice with the students she teaches. She is as beautiful in real-life as here on the telly. I love that she pushes boundaries and for that reason am much looking forward to her workshop at TLT16.
@Xris32 I am pretty sure that Chris is perfect….well apart from his reversing which I was privy to in Leeds. Joking aside, his blog is an absolute goldmine of knowledge and his blogposts are written in a wonderfully intelligent and yet unassuming manner. Chris has helped me to get my head round the new GCSE after years of IGCSE teaching, just by writing blogs that make sense. I use his ideas daily, the multiple choice question lesson that I adapted for Great Expectations has to be my absolute favourite lesson that I taught over the last year. He just makes sense…and enthuses me as a teacher.
@FKRitson Fiona is just absolutely brilliant. She is possibly the most passionate and hard-working person I know. Fiona spent the last year with a much depleted staff, and when any of my collegues complained, I always told the story of Fiona and the masses of cover that she needed to produce. But what's got me is that she has never complained, she just got on with finding a solution, and that says is all about Fiona; if you look at her blog posts, they are all ideas and resources designed as solutions to problems. She has spent hours looking at ehat was expected in the new AQA GCSE and breaking it down into pieces that are easy to understand and help the newest od teachers in her 'Slave' blog. On top of that she is one of the funniest and most talkative people I have the privilege to know….even if she thinks hugs are overated.
@mr_englishteach Mark's blogs have possibly had the greatest impact on my GCSE teaching this year. Mark's experience is evident in his blogs and if you want to really get your head round teaching Paper 1 for AQA, they really are a must-read. I used his ideas on structure and his GRANDDAD acronym to teach exam skills with both year 9 and year 10. Year 10 in particular are quite taken with the 'man off Twitter that comes up with good ideas to help us.' Mark has also looked at some examples for me and given me brilliant feedback, never being condescending about my lack of experience with AQA and instead given me constructive feedback that pointed me in the right direction.
@englishlulu Louisa is one of those teachers that you aspire to be. She has been utterly invaluable with her IGCSE examples, and I'm totally convinced that they helped my year 11 lovelies to succeed in the summer. She is super intelligent and her research on 'stopping PEEing' has persuaded me to move away from the formulaic approach and just get them to bloody write. She is also hilariously funny and brilliant to get drunk with, particularly on roof tops in Leeds.
@agwilliams9 Anne is quietly brilliant. She founded and runs @EngChatUk, whose Monday night chats are invaluable for ideas and support and I would encourage all English teachers to join in; you'll feel supported and enthused. This year Anne organised Teaching and Learning Leeds, which was a totally and utterly brilliant day, in a beautiful setting, from which I took away loads of ideas and resources which will play a massive part in my teaching year this year. I'm sure that the whole day gave me the energy to finish of the year feeling still half alive. The next Teaching and Learning Leeds is on 1/7/17. I urge you to go!
@Positivteacha Matt is what I like to call 'controversial'; he says things that you either love or hate…and that's not a bad thing. We need people to encourage debate. But what I like about Matt is that he will listen, he might not agree, but he'll listen and what I find refreshing on edu Twitter, is that he will change his mind if persuaded. He's part of the quartet of @Team_English1 and is about to embark on a new journey as Head of Department. He's an alright geezer.
@DoWise Doug is what I like to think of as the quiet man of Twitter. But read his blogs and look at his resources and you will see a supreme intelligence and very efficient teacher. I can't recommend his resources enough, they are well worth checking out and everything, and I mean everything that he writes or produces is useful in some way or another….and he's a jolly nice bloke to boot.
@MissL_Amos I spent 2 days in a hotel room in Leeds with lovely Lyndsey. We had a lot of fun. Both Lyndsey and @85teachergirl have been absolute god sends this year. When things get tough we get in our group chat and moan it all out….and I'm incredibly grateful for the support they gave me, in tough times throughout the year. They are my kind of people…and we had a lovely meal together in Stoke.
@thebadpedagogue Williams is my surrogate Twitter son and fellow insomniac. He can pull quite scary faces at 3 in the morning, trust me. But aside from that, he is a master resource maker and bloody kind with it. The students love his resources and they bring a bit of life and colour to an exercise book. Use them!
There are so many of you that have inspired, supported and helped me this year, I really would be here forever. So here's a little thanks:
@amforrester1 For being brilliantly supportive, making me laugh a lot and for being my partner in heavy KS4 crime
For helping me out no end with Blood Brothers resources, and just being generally brilliant  @books4kooks  @Kmst1Smoczynski  @SusanSEnglish  @englishcal @iago99
@thatboycanteach For being positive and brilliant all year round and reminding me that it's ok to like my job.
@emmray For helping me out with resources and for being just generally a nice person to chat to. Best of luck in Italy! Jealous!
@FranNantongwe I met Fran for the first time for lunch this summer and she is just brilliant. She doesn't know it yet, but she may have to become my new bestie
@CraftyEnglish Became a Twitter mummy this year but still finds the time to be supportive and stop in for a chat. She's just brill.
@NooPuddles Nikki is my kind of gal. She asked me to get involved in @Team_English1 this year and it has taken off no end, so I think it was a fabulous idea and is hopefully helping English teachers across the country to interact and share ideas and resources. It astounds me how much is actually shared and between us we spend a lot of time retweeting everyone's fab ideas. I met Nikki in Leeds and she is a bloody nice lady, with proper enthusiasm for what she does. I've also loved that she has started blogging more this year. More Nikki, more!!
@JamesTheo James is a man of supreme intelligence. I don't always agree with what he has to say, but respect him no end for sticking up for what he believes in. His blogs are always informative and interesting, his blog on the evaluation question played a pivotal part in my understanding and teaching – the use of GBBO has crept its way into my lessons, and only bloody worked!
@DiLeed Di is a flag bearer for EAL students and as someone who teaches a lot of EAL students are find her ideas and advice invaluable. She's one of those people that it is always wise to listen to, as she knows a lot about a lot of things.
@Bronte_32 Claire is a little mine of enthusiasm and support. She shares her brilliant ideas and resources and is just a generally positive person to have around. We must meet!
@Top_kat1 Kate is the most positive person ever. At several points across the year, when I have felt ready to drop, there has appeared a package on my desk with things in to keep me going and which have given me a boost. She is the nicest, kindest, loveliest woman in the world, but also one of the most intelligent women I have the privilege to know. I'd actually quite like it if she ran for PM.
@atharby Andy's blogs are just an absolute treasure trove of ideas and advice and his book Making Every Lesson Count has the honour of being the book with the most highlights and post it notes sticking out of it in my collection. If you are an English teacher, you really must follow. Utter brilliance.
@SaysMiss Kat is a Trojan of a teacher. The resources and ideas seem to flow continuously, and not only that but they are all shared, meaning that we all have privileged access to a huge amount of knowledge. She is one of those Tweeters that always make me feel positive. A great woman.
@TillyTeacher Whenever you need a scheme of work, or a lesson on something, Laura is the person that manages to pop up and shout, 'I have one!' She is one of those important women who has strong opinions and the knowledge and experience to back up her ideas. I'm glad she is on my timeline.
@carrutherssocks Nic is one in a million. Kind, supportive, lovely and she knows what it is like to see some very dark times indeed. I'm grateful that like me, she is happy to talk about it and support others. I love her.
@MattGovernor Matt is incredibly supportive. He is a real stalwart for sharing ideas in education and supporting the people that need it. I count him as a good friend.
@MissDCox I had the pleasure of lunching with Dawn over the Summer; she is rather awesome indeed. Her blog is an excellent place to go for really sensible and well-wriiten advice and support on a variety of topics. You really should be following.
@MissVicki_V Vicki is just utterly amazing. She is supportive and lovely and kind and…well just a bit special. I have a special drawer of 'Vicki pens' that she sent me at school and my lovely blanket that she made for me…excellent for cuddling up with when I'm feeling a bit low. I love her.
@rachelrossiter Rachel is intelligent and witty and clever. I love watching Rachel debating on Twitter because she is always utterly right and can shut everything down with a finely placed quip. She is on the same 'humour' wavelength as me…which is rather excellent for me; somebody gets it! I went for lunch at the lovely Rachel's house this Summer and she was an absolutely awesome host.
@nancygedge and @LPLFlippedEng I had the pleasure of going to Network Ed, brought to us by these two lovely ladies and it was a brilliant and hugely useful day. Their knowledge and experience just astounds me. Nancy is a queen amongst bloggers and her honesty and integrity is what blogging should be about. Liane on the other hand, knows everything there is to know about English teaching. I always feel that she is an untapped mine of important ideas – blog more Liane!
@dutaut My favourite Frenchman. JL is is kind and honest and intelligent. He debates with people without undermining their position and ideas, but whilst intelligently and cleverly expressing his views. His blog writing is just beautiful. He crafts sentences and makes them a thing of beauty. If you haven't read them, you really should.
@whatonomy His writing is just brilliant. If you need a little pick me up during the school year, just read his back catalogue of Michael Benzine blogs. Very funny indeed.
@Gwenelope Queen of napchats and just generally an all-round good egg. Gwen is supportive and kind and honest….and bloody hell, does she walk a lot.
I think that the world of English teaching might crumble without these people constantly sharing ideas and resources and I for one, am very grateful.@HuntingEnglish @stowdawn @RealGingerella @KGibson2605 @davowillz @Mr_Bunker_edu @TLPMsF @Emmsibo @londonirish83 @MissJLud @MrRDenham @Debsgf @RhiEllis @daveg5478 @NSMWells @KerryPulleyn @mrpeel @JenJayneWilson @evenbetterif @sherish_o
The napchat crew – positive, funny and brilliant. @Gwenelope @Top_kat1 @MattGovernor @LPLFlippedEng @treezyoung
To all these wonderful people that I have interacted with this year. You are all brilliant and amazing @MissDalyEnglish @stephanootis @RemusLapin @EmmaRadford4 @TeachEnglish146 @mrlockyer @Thisismarycody @cornishmaid88 @millward_miss @Mrs_Badham @tannytwoshoes84 @AnneTaylor100 @missfordenglish @dailydenouement  @DanielPacker1 @teach_smith @Bathsheba2 @Tom_Briars @MelodyMelodyyy @MrsSunder @teacherwithbike   @EnglishHOD @AnnieBlack01 @JoWebbTeach @MissLFrosty @sezl @llinosmj @cmpercybook @LisaFarrell3 @MrJamesCCC @Lisa7Pettifer @designerchaoz @alwayswright73 @LNell2020 @eltvasconcelos @beautifullyfra1 @MsMitchellOxon @saraclifford @RobertsNiomi @MrStaveley @rjw66rjw  @Cornishwelsh @CazGerrard @CharlieM_87 @rondelle10_b @LittleMissHill1 @SarahGi78263526 @nowMrsBeattie
For constant support and forever being kind. @KathyKelliott @lulalee1
Best of luck in your NQT year ladies! I will be keeping an eye on your progress @MissHaggerNQT @Arithmaticks
To the perennially positive of Twitter. I salute you for your constant smiles and brilliance. You are what makes life great @pennyprileszky @JackieOrton1 @smithsmm @RAVR68 @zoecaine @teachtinyminds @RaeSnape @SeanwelshBacc @isright @FlyMyGeekFlag @SharpeImages_UK @MrGPrimary @imagineinquiry @theback71
So here's to a new year and thanks to you all for making my last year interesting, exciting, valuable and full of new friendships. I hope everyone has a brilliant year, but if times are tough, know that there are those of us who will always support when it's needed. I for one, will always return the favour that you brilliant people have done for me.
I've had a rather nice summer, life has changed, and without getting too personal, I've learnt a valuable lesson: there is far more to life than just work and there are people that deserve your time and effort.  So make sure you find time to spend time with the ones you love, make sure you do things that you enjoy, don't regret it later on – grab hold of opportunities. Try and remember to do that in the depths of winter, when the workload seems huge; that's probably the time when you most need it.
I'm going into this term remembering that I do this job because I love working with teenagers; they're funny and vibrant and have enquiring minds….yes even little Johnny who makes your life hell.
I'm going into this term remembering that I can only do what I can, that the most valuable asset in my classroom is me and that it doesn't matter if I don't have a flashy PowerPoint or a million resources; we'll manage if I haven't got the time to do it. I'll do what I can and we'll still learn. The things that always need to come first are those that help the students.
I'm going into this term remembering how important it is to laugh and have fun and I'm lucky to work with colleagues who are my friends and make me laugh constantly. I make no apologies for silly Tweets. We need to laugh….all of us, teachers, students, people and that's the way I deal with things. Life is too short to take every minute of the day seriously. Let's smile and have fun while we do it.
I'm looking forward to seeing some of you at TLT16 and TLLeeds this year, where I know I will yet again be enthused and excited about the job that I do, and we need that occasionally. Please continue to share ideas, resources and blogs. The profession needs you to.
I'll leave you with this. I don't get nervous when I meet a new class, seeing posts on Twitter, I know a lot of people do, but I'm more likely to be stressed that I haven't done everything I wanted to do. So I shall end with a little trick, when you walk into a class for the first time, imagine this going round in your head, and you suddenly become the coolest person in the room…….
Here's to 2016/2017 – the year of the new GCSE